Threat Made to Community R-VI High School Under Investigation
Local law enforcement have offered an increased presence at the Community R-VI High School after a threat was made against the high school last night (Thursday).
According to an email from Community R-VI superintendent Nick Larson the administration was made aware of a threat after a community member communicated this message with the appropriate people.
The school and police were notified and the issue has been handled.
In a statement released from Audrain County Sheriff Matt Oller this morning:
"Late yesterday afternoon I was notified by a concerned parent that there had been threats of violence made by 2 students at CR6 High School.
Our School Resource Deputies were notified and immediately began coordinating with District Staff and began an in depth investigation. Numerous witness and suspect interviews were conducted throughout the afternoon and continued into the early morning hours this morning.
At the conclusion, deputies found that there were "threatening statements" made, but it appears there was no intent to follow through.
The suspects were released to their parents and the investigation will be forwarded to the appropriate offices for filing of any criminal charges that may be applicable.
The suspect students will not be in School today, and the District will determine any disciplinary action to be taken relating to their attendance at school and school functions.
I want to thank the District for their partnership with my office in support of our SRO Program that has been in effect since 2014 in Audrain County. Having that relationship during incidents like this and having deputies in these schools daily makes investigations like this go much quicker, and the insight much better sine they know all of the kids.
No further information will be released by the Sheriff's Office at this time."
A concerned parent told KWWR/KXEO News that two boys at the school had threatened to shoot up the school and made a list of students they didn't like and they were going to shoot the people on the list and shoot students at graduation.
Law enforcement also offered an increased presence at graduation this Sunday.
Community R-VI Superintendent Nick Larson says he can not comment on student discipline.
The statement below was released from the Community R-VI School District this morning.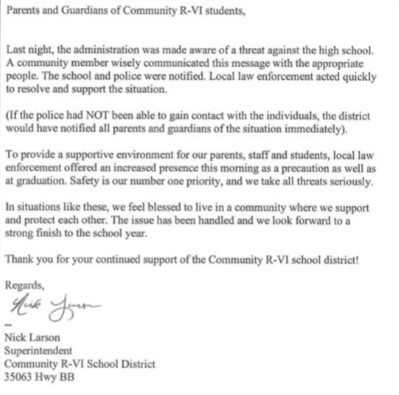 ---