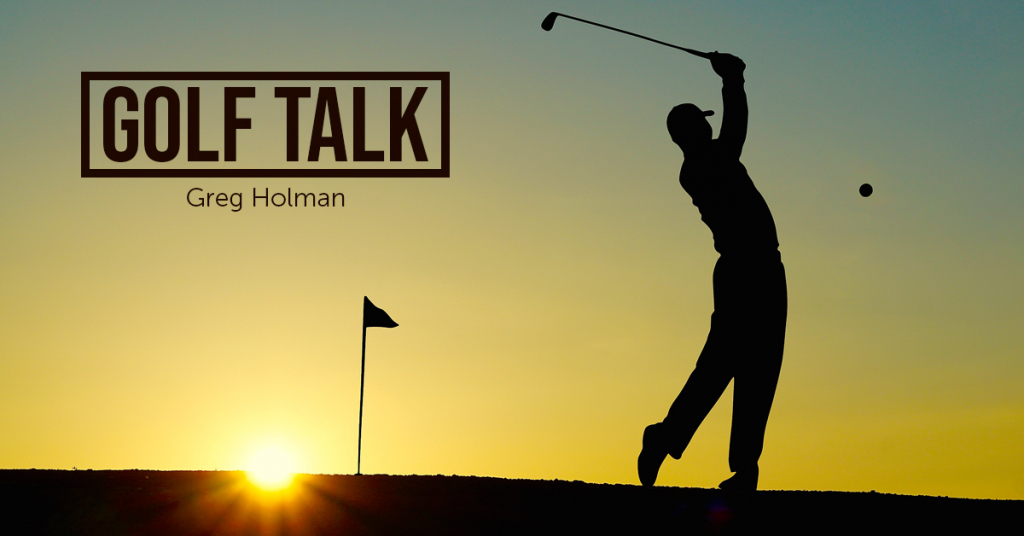 Golf Talk With Greg Holman – #94
Click play to listen to Greg's blog, or, read below.
Since it's fresh on my mind, today I'd like to talk about attitude on the golf course. Everyone from time to time loses their temper, and the game of golf seems to lend itself to outbursts of anger. You really can't blame anyone but yourself for an errant golf shot. Everybody has to play in the same conditions.
Here's a list of common excuses golfers have for not hitting a good shot:
Wrong Yardage
Bad Lie
Ball Hit a Spike Mark
Bad Bounce
Foot Slipped
Now let's address some of those excuses. First, carry a range finder and you'll always know the correct yardage. A bad lie is just one of the breaks of the game. Your ball should not hit a spike mark anymore. Under the new rules a player is allowed to tap down spike marks with their putter. A bad bounce? That is part of the game. Here's one I can relate to from Sunday. My foot slipped.
On the second hole Sunday, I noticed the sole on my right golf shoe was peeling away at the toe. I tried to just rip a section off, but that didn't work, the glue was just too tough. I could have used that as an excuse, but I didn't. I have to admit I did get angry for a different reason though.
I've always played better on the back nine at Lake Valley Country Club in Camdenton than on the front nine. One of the main reasons is that the first nine is a little longer. One of the cool things about the course though is that it features 6 par 5's, 6 par 4's and 6 par 3's of varying lengths. So it's a fun course to play.
I managed to one-putt 7 times on the front nine to shoot 43. I wasn't doing anything else right. The back nine was a different story. The 10th hole is a long par 4… about 410 uphill and I blocked my drive and hit a tree of the tee so I still had 250 to the green. I played smart and pitched back in the fairway and hit my third shot over the back and got it up and down for a 5. So no harm done. But I made a 7 on the 11th, an easy par 5. The 12th is a narrow 340 yard par 4. I hit my drive right down the middle and lost it and then I lost my game.
You can't let a bad break ruin your round. I know better. After that it was one bad shot after another. I had a chance to redeem myself on the 14th, a short par 5, where I had a 15-footer for birdie, but I charged the putt and took a bogie. So how do you keep this from happening?
The old adage of playing one shot at a time is one to keep in mind. You might take a triple bogie like Rory McIlroy did on the first hole of the FedEx Cup and come back to win. I can think of many times where one shot would turn the round around. Learn from your mistakes. All the different scenarios that golf presents out in the elements is what makes it the best sport ever.
Hit 'em straight!
---