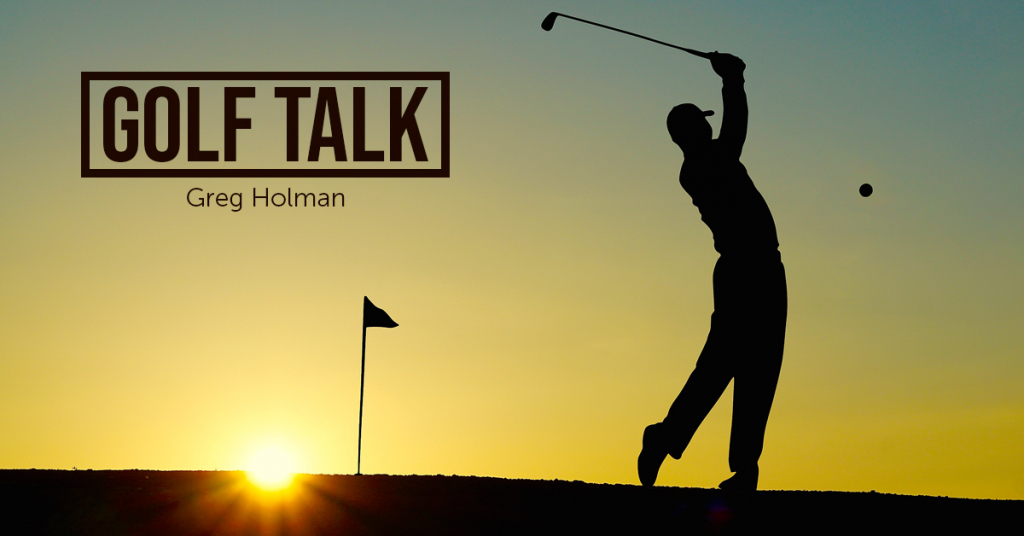 Golf Talk With Greg Holman – #119
Click play to listen to Greg's blog, or, read below.
It's the 4th in our four-part series of how to shoot 39. Today we'll look at how to break 40 at Tanglewood in Fulton (on the front nine.)
Tanglewood is a fun links style course located on the north side of Fulton just off Highway 54. The first nine has a nice variety of holes and for the most part is fairly wide open.
Make sure you are warmed up beforehand because the first hole gives you a birdie opportunity but you need a solid drive. It's a 340 yard dogleg left slightly uphill par 4. Do not try to cut the corner. Pull it left and you'll be in the high grass. A 200 yard drive in the short grass leaves you 140 to a large target. Take enough club and attack this hole. A par awaits you if you play smart.
#2 Is a tricky par 5. This 500 yarder features tall rough on both sides. It's a late dogleg right downhill to a green protected by trees on the right and sand. You need to fit your second shot into a 20 yard wide slot on the left side of the fairway. That'll leave you 100 yard shot into a big green. Par is a good score here.
#3 Is another short par 4. Only about 360 and straight away. Just keep the ball away from the left side with waist high rough for the stray shots. The green is slightly elevated and undulating. Take enough club and you'll be rewarded with a par. So three pars through three holes gives you a little insurance heading into the #1 handicap hole.
#4 Is the signature hole at Tanglewood. A 400 yard dogleg right slightly uphill over a lake and then downhill to a severe back to front sloping green with a bunker left. It's only about a 170 yard carry over the water from the front tee, so just hit a solid drive and get it up in the air, then take a wood or hybrid and set up on the right edge. A bogie is not too disappointing here.
#5 Is a good par 3. The same lake definitely comes into play here. Don't fade the ball. Just set up at the left edge of this 170 yard hole and try to two putt or get up and down for par. 4 isn't bad.
#6 Is a short par 4 and is a birdie opportunity if you bogied 4 and 5. 310 yards downhill. Don't mess around with the left side. There is OB left. A good drive should leave you a wedge shot into the green. You should make no worse than par. This is probably the easiest hole on the course.
#7 Is a relatively long par 5 featuring a very wide fairway. Pick an aiming spot though. You don't want to spray the ball either direction. The rough is thick. Two solid wood shots should leave you less than 150 yards uphill to this 530 yard par 5. Par is a good score but very attainable.
#8 Is another good par 3 over water. It plays anywhere from 140 to 180 yards depending on the tee. Take enough club to clear the pond and chip up or two putt for your par here.
The 9th is a wide open finishing hole. Set up down the right side of the fairway. It's important to hit a solid drive here so the ditch about 80 yards short of the green doesn't come into play for your second shot. It's about 390. So a good drive and hybrid should put you around the green with a chance to close with a par. If you bogied the two toughest holes, four and five, had no birdies and closed with a bogie here, you'll shoot 39. Then take a break for a sandwich before you tackle the tougher second nine.
Hit 'em straight!
---