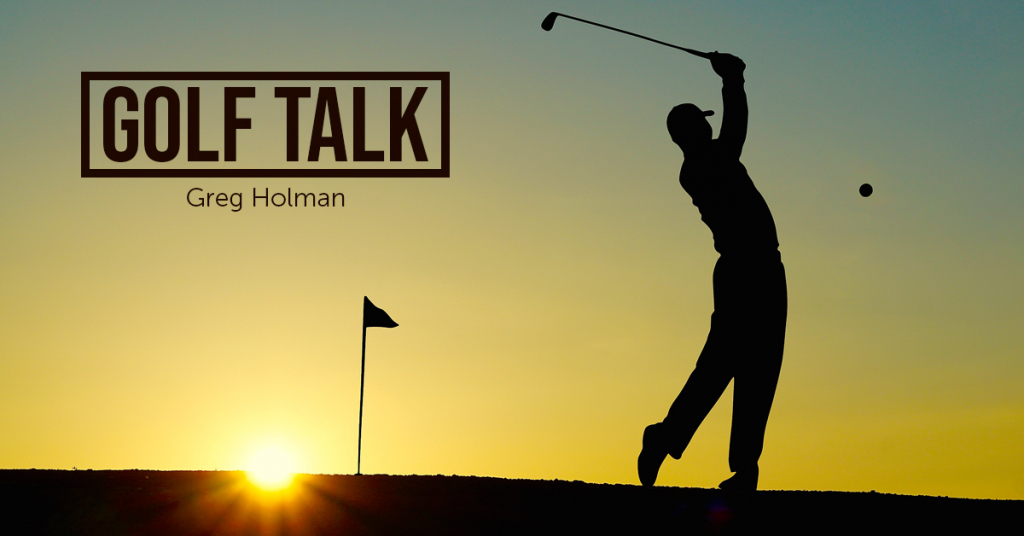 Golf Talk With Greg Holman – #118
Click play to listen to Greg's blog, or, read below.
This is part 3 in our 4 part series on how to break 40 on the local courses. Today we look at the Centralia Community Golf Course, formerly the Centralia Country Club, another nice 9 hole layout right on Hwy 22 on the east side of Centralia.
Of the four courses we are featuring, this may actually be the easiest, but there are places you do not want to visit on the course.
Hole #1 is a slightly downhill par 4 about 350 yards. Stay out of the trees on the right. Play a driver or 3 wood down the left side to give you a 140 yard shot into the green which is slightly elevated. It's a large green so 3 putting is not out of the question, but 4 is a distinct possibility here.
#2 Is a modest par 3 with pond that doesn't guard the front very closely so it shouldn't come into play, but take enough club. Again the green is slightly elevated and has plenty of slope so birdies are hard to come by, but a 3 shouldn't be too tough.
#3 Is a wide open uphill par 5. Long hitters could reach this green in two. Aim at the big tree on top of the hill, then rip a 3 wood just right of the tree that'll leave you 100 yards or less into a fairly small target. Play the fairway and you should make 5 on this 480 yard par 5.
#4 Is a downhill dogleg left 350 yard hole. Long hitters should take less than driver. There is a ditch about 50 yards short of the green. A draw is a good shot but don't over hook or you will be stymied by trees. For a clear second shot favor the right side to leave you 140 yards into the green. Again take plenty of club to clear all the trouble. Par here is reasonable.
#5 Is one tough par 5, about 535 yards but it seems like it's always into the wind. Don't mess with the right side with the rough, trees and pond. If you hit it right of the bridge you are dead. Play down the left hand side. if you are over the ditch in two, the hole becomes a par hole but 6 is not a bad score.
Hole #6 is a great par 3, about 175 yards with the clubhouse as a backdrop only a few yards over the green. It is a little uphill so take enough club to get back to the pin. Anything around the green is good and sets up a possible par.
With my distance, I have not figured out how to play #7. The landing area for a 200 yard drive is so narrow, you are almost certain to be blocked out by trees on the right or a huge tree that guards the green left center. The second shot either needs to be a high one over the tree or a hook around it. The green is no bargain either perched on a knoll. It's a very difficult short par 4 dogleg left, only about 325, but par is a good score here.
#8 Should be an easy par and possible birdie, only 125 from the tips but there is sand. You should count this as par. So if you are 2 over going into #9 you should be able to at least bogie the last. Block the highway on your left out of your mind and focus on hitting the ball down the right side. The 370 yard finisher features a ditch right in the driving area. It's close to 230. Downwind I might use a 3 wood or even a 5 wood to avoid a penalty. A good layup 20 yards short of the ditch leaves you with a 160 yard slightly uphill second to a beautiful green. Make bogie and shoot your 39. Par is a bonus.
Hit 'em straight and you'll have the best chance.
---