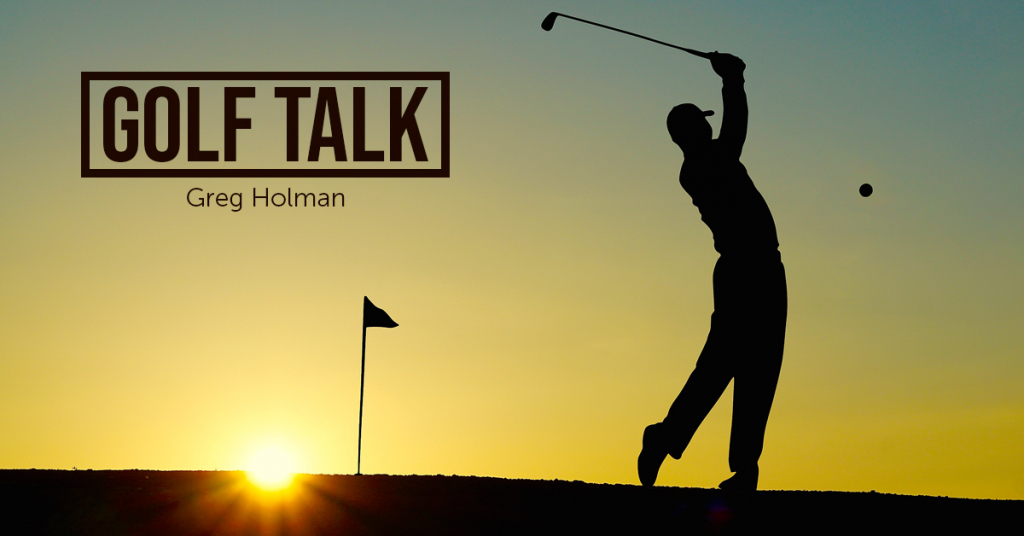 Golf Talk With Greg Holman – #117
In part two of our four part series on how to shoot 39 on the local courses in our area, today we look at The Oaks, formerly known as the Mexico Country Club, which is one of the more mature courses in the area, built in 1920.
The greens are some of the best I've ever played. It is only a 9-hole course but separate tees for the front and back nine give the golfer a different look and in two cases, a different par. Of the four courses, Arthur Hills, Centralia Community Golf Course, and Tanglewood, The Oaks is actually the most difficult. It's a traditional layout with tree-lined fairways and small greens. 39 is a good score in my book.
So how would I tackle the course to shoot that magic score? And by the way if you are in high school and fire a 39 I can almost guarantee you will have the best score in the match. Back to how you conquer the 6,400 yard course.
First, keep the ball out of the rough. I don't really hit the ball far enough to hit an iron for control on the par 4's so I have to be accurate with my driver. Keep the ball in the fairway on #1, a 450 yard par 5, and it becomes a birdie hole. Easier said than done, it's an intimidating tee shot with a penalty ditch left and an overall right to left slope. The tree-lined fairway is really full of tall trees too, we're not talking saplings. Hit the ball down the right center. A 200 yard drive will give you a flat lie, and a straight or a second shot that slightly favors the right side of 180, will give you a 70 yard pitch into the small green. The shot will play 80 yards since it is uphill so hit your shot firm enough to carry the front bunker and putt for birdie. I've made a lot of 6's and 7's on this hole but if you can make 5 you'll have a little insurance for the next stretch of holes.
#2 is deceivingly difficult. It's only 380 downhill, but again the trees are growing and it's actually a very narrow fairway. A 200 yard drive will run out to 220 leaving you 160 uphill. Longer hitters can try for the 260 yard carry across the ditch, but they would be better served to hit their 220 yard club for a flat lie and a 110 yard shot uphill to a small green with back to front slope. This is not a birdie hole, especially with the undulating green. Par is a good score here.
#3 is a dogleg left with highway 54 on your right. The best shot except for the long hitter, is to place the drive 200 yards down the right side. This will leave you 190 yards to a tiny green perched green which has a severe tilt toward you. Just try to keep your second in front of the green and get up and down. Going long or way right into the pond would mean a big number. 5 is not a bad score here.
#4 Introduces you to the first par 3 over a pond, which shouldn't come into play. The hole is only 147, but you don't want to go long. I've seen many golfers come in hot and hit their shot over the green into the street. The OB is only about ten paces beyond the green. There's a bunker left which is not easy. Par is a good score here.
Hole 5 is a longish par 4 of 400 yards but it is straight away with a dip in the driving area. Go left and you have tree trouble. Go right and you could find the ditch. Way right is OB. A drive and hybrid around the front of the green will give you a chance at a par. A bogie is a decent score here.
#6 Is a long par 5. Your goal should be 5. Better right than left but way right is OB. It's the narrowest fairway on the property, only about 30 yards wide in the driving area. Find the fairway at 200 and you'll be faced with a shot downhill to a creek. Hit whatever you can hit straight. A 200 yard 3-wood will heave you 175 to the green uphill. The ditch is about 90 yards from the green so longer hitters could reach it and have a decision to make. Even if I could clear the ditch, I would lay back to 100 yards from a flat lie. Again, par is a great score.
#7 Is a rather long par 4 from the back tees. It's an uphill dogleg left. For the average hitter, the right side is best. You'll need to hit your tee shot 230 to get a good look at the green though. The hole is 396 so it may take the average player two wood shots. Even if you hit the green in two, it's a double decker so a two putt is not a given. Par is a good score.
#8 Is a longish par 3, 180 uphill to a small target. If you can just keep the ball straight and short you will have a decent chance to make par.
And #9 the first time around is a short par 4 of 355 yards downhill but there is a ditch in the driving area about 235 out. If you are an average hitter, take out a hybrid and hit the fairway. That will leave you 130 yards uphill to a green that is pitched back to front. A greenie and two putts should be your goal.
So, to recap par, par, bogie, par, bogie, par, bogie, par, par will give you a 39. Your best birdie chances will be at #1 and #4. Avoid the double and you'll have a chance if you bring your A-game and can make some putts because you will miss several greens. Hit 'em straight on this course and celebrate if you shoot 39. Good luck. It's tough, but a fun course to play with the big trees, challenging greens and uneven lies.
---