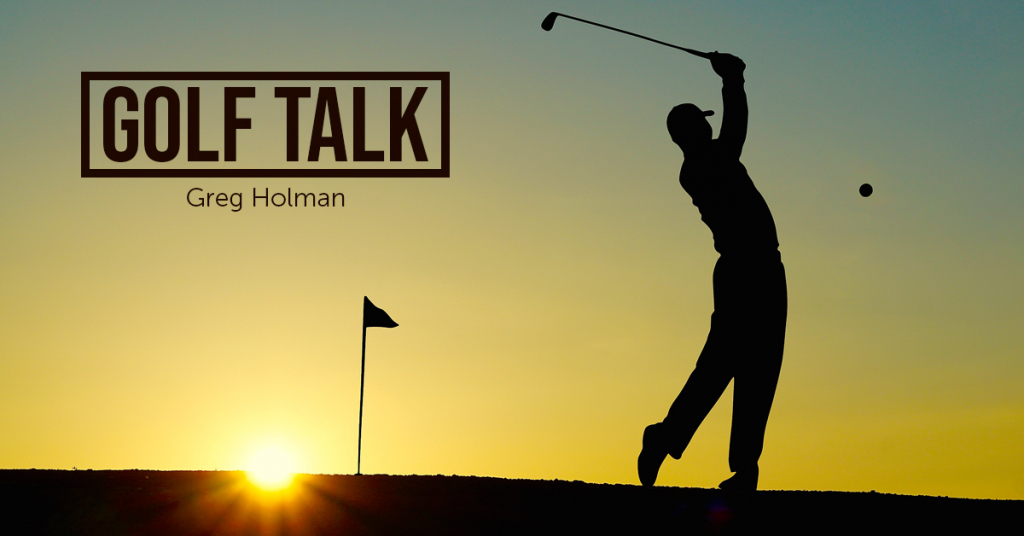 Golf Talk With Greg Holman – #116
With High School Golf season less than a month away, I thought I would talk about how you should tackle a few of the courses you will play.
Today in part one of a four part series we'll take a look at Arthur Hills Golf Course. If you are going to be new to a high school golf team, you should know that most of the matches are just nine holes, so it's even more important to get off to a good start.
Fortunately the first three holes at Arthur Hills, which is an 18-hole course located just west of Mexico, are fairly forgiving. That's the good news. The bad news is, you may bot be starting on #1, depending on how many teams and players are on the links. If the match starts at 4, early in the season you will be fighting sunlight, so sometimes coaches decide to do a shotgun start. They actually used to fire a shotgun in my day, but it actually means there will be a three or foursome starting at the same time on different holes. But I thought I would give you the recipe for breaking 39 or 49, whatever you goal is, assuming you start on the first hole.
By the way, 39 is still kind of the standard for a good round of golf in high school. My golf teacher always told me to try to par the first four holes. That may be easier said than done on a cold windy day in March, but the first hole at Arthur is not difficult. You just have to figure out someway to get the ball in the fairway. A 200-yard drive will leave you about 140 uphill to a sloped green. Play to the front of the green to avoid a downhill chip or putt.
#2 is a 155-yard par 3 to a small target. Avoid the trees on the right. If you fade the ball, aim at the trap on the left and again don't go long. The green is fairly flat. You can make par there.
And the third hole is a short par 4, downhill then up hill to a crowned green. The green is the only thing that makes this hole tough. A 200-yard drive will leave you about 140 to the green. Do not go long. You could make a big number if you blow your iron shot over the green. I'd take my chances on a 30-foot uphill putt.
Now the fourth hole is the #1 handicap hole on the course, which means it is the most difficult. The tee shot is a little intimidating, but just take a smooth swing and pretend you are on the driving range. It's not as tight as it looks. A decent drive just short of the ditch will give you 160 or 170 yards into a small green that tilts a little left to right. If you hit your drive in the fairway you should be able to make no worse than bogie. That green tends to be a little slow. It's a good idea to hit your putts firm and take out some break in the early spring anyway.
#5 has my number, but it shouldn't be that tough. Aim down the left side because the fairway slopes left to right toward a long row of trees. Take on more club going into the green since the shot is uphill. You want to clear the nasty sand trap on the left front. You can par this hole if you play smart.
#6 is my hole-in-one hole. It's 170 yards downhill. Avoid the tree line down the left side. Anything but super long is okay here. Take you par or bogie.
#7 is a short dogleg left slightly uphill par 4. A 200-yard shot is perfect. Longer hitters might be able to reach this green in one. The hole is only about 300 yards or less. Definitely a birdie hole if you place your drive in the fairway.
The two closing holes are both par 5's. They each have their challenges. #8 is wide open and about 500 yards but if the wind blows out of the west it can be a bear. We've talked about this before. Even if a hole is a mile wide off the tee, always pick something to aim at, even if it's a cloud or a tree in the distance. Keep your second shot down the left side since shots have a tendency to kick right. The green at 8 is tricky with back to front and left to right slope. I usually try to hit my wedge or short iron over the bunker on the left but then you risk a downhill putt, still better than missing the green right. So it's a difficult hole to birdie but play smart and you should make par.
The 9th is a short five along the gravel road back to the clubhouse. The tee shot must be placed in a narrow gap between the trees. I usually aim down the left tree line. It's tough to not lose it right in the trees, but if you do manage to hit the gap, it becomes a birdie hole. With a decent second you should have less than 100 yards in to a deep green, so check the pin position. You don't want to be left with a 40-foot putt in front of the coach.
And that's the way to shoot 39 or better at Arthur Hills. Good luck and hit 'em straight!
---