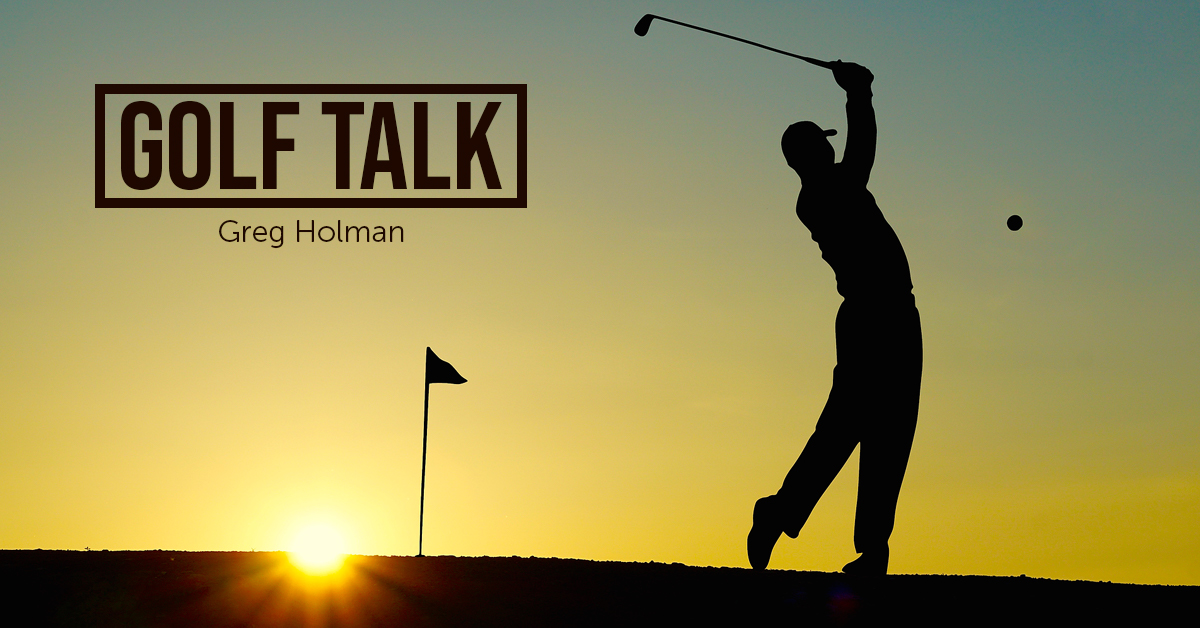 Golf Talk With Greg Holman – #95
Click play to listen to Greg's blog, or, read below.
If you have never been to a professional golf tournament in person, I urge you to go. A major tournament is whole other animal. The masters is a really tough ticket. The US Open usually sells out quickly. The Open Championship of course is overseas, so that may not be on your bucket list, but the PGA Championship is definitely doable. I've been to two PGA's in 1993 and 2018, both at Bellerive Country Club in St. Louis, and they were amazing, but for a little less money and better visibility I recommend a senior tour event.
The Ascension Charity Classic was held this past Sunday at Norwood Hills Country Club in North County St. Louis. We chose to follow John Daly's group even though he wasn't in contention. It was still so much fun following J.D. for 14 holes. We saw his entire front nine then took a break for lunch. Daly was paired with Jim Furyk and Ken Tanigawa.
On the 5th hole, the #1 handicap hole, Furyk sliced his drive into the high rough. I was three feet from his legendary caddie Fluff. It was so interesting hearing their conversation. Furyk took out a six iron because his ball was perched several inches above the ground and a more lofted club might cut right under the ball. The shot was successful as Furyk slashed the ball back into the fairway. He salvaged a bogie and avoided a big number.
Meanwhile, Daly played well from tee to green but just couldn't buy a putt. He did manage to drain a long birdie putt on the 17th hole and parred 18 for a one under 70. Furyk shot even 71 and Tanigawa closed with a one over 72. The final totals for the group were 67-72-70 for Daly for a tie for 29th. Furyk shot rounds of 72-68-71 to tie for 38th and Tanigawa tied for 41st by shooting 72-68-72. Defending champion David Toms recorded rounds of 69-68-69 for a tie for 16th. Ernie Els tied for 5th at -10. Bernard Langer was 4th alone at -11. Steve Stricker finished 3rd at -12. Y.E. Yang made a charge but fell one shot short at -13, and Padraig Harrington is your winner at 14 under with rounds of 65-66 and 68.
The reason I chose to follow John Daly instead of the leaders, in case you didn't know, is because J.D. played his senior year of high school at Helias in Jefferson City. I lived in Jeff City at the time and followed his career. John has two major tournament wins at the PGA in 1991 and at the British Open in 1995. A total of Five PGA Tour victories. He is a colorful player to say the least. Read his book, "Grip It And Rip It." He's been married four times, has lost more money in gambling than most people make in a year, and has his own line of clothing known as Loud Mouth. John was wearing orange hooters pants on Sunday. John is a smoker and drinker and way overweight and not surprisingly has had many health issues including cancer. He was the first golfer to average over 300 yards per drive for an entire season. He accomplished that feat in 1997. At the time it was 30 yards longer than the average distance on the PGA Tour, giving him the nickname Long John Daly.
Daly also is in 3rd place for the most shots taken on a single hole on the PGA Tour. He once made a 14 on the 18th hold at Pebble Beach, but that's not his worst. On the par 5 6th hole at Bay Hill in 1998, after hitting 6 balls in the water he finished with an 18. The worst score all time by the way was recorded by Tommy Armour in the 1927 Shawnee Open. He hit 10 balls out of bounds on the 17th hole en route to a 23.
There is hope for hackers everywhere.
Hit 'em straight!
---