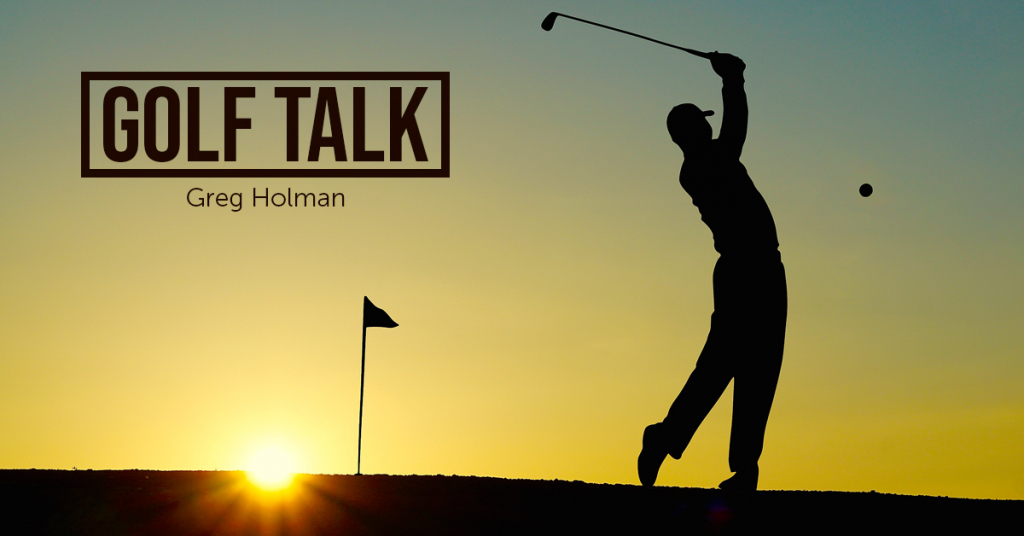 Golf Talk With Greg Holman – #100
Click play to listen to Greg's blog, or, read below.
This golf blog marks a milestone. It is the 100th episode and this week I thought we'd talk about breaking 100 or breaking bad.
The main thing to remember when trying to shoot in the 90's for the first time is that it's difficult to bounce back. You would have to take chances and make a few pars to compensate. If you look at it from a math standpoint, all sixes on 18 holes equals 108, so you have to have 8 fives and eliminate the big numbers. How about this for a goal? Make a 4 on all the par 3's, an average golfer can do that. So if your course has four par 3's and you make 6's on the rest of the holes, guess what, you just shot 100. One more putt falls and you've done it!
Before we talk about putting, there are two types of 100+ golfers, the ignorant and the forgetful. It's amazing how many high handicap golfers do not know how to keep score. A miss counts as a stroke. There is no such thing as a two-putt limit and here's one that I see all the time that amazes me. Let's say in a friendly game, we are playing gimmes to speed up play, that does not mean you don't count the gimme as a stroke. This isn't horseshoes. Close doesn't count. So if you take two putts and end up just inches from the hole, you have just 3-putted.
With age I have just learned to smile or say congratulations when a high handicapper says he parred the hole. He was on the green in three and nearly made his second putt on the par four. Sorry that is a double bogey six. Try that in a tournament and you will embarrass yourself.
Ok. Enough scolding. Let's talk about putting. It's probably on the green where you can save yourself enough strokes to break 100, not driving.
How many times do you three-putt? If the answer is more than two, you need to head to the practice green, not the practice range. Watch the pros. You'll notice they misread putts too, but they have amazing distance control, which eliminates or keeps three-putts to a minimum. So don't worry about making 30-footers on the practice green, see how many putts you can knock 12-inches past the hole.
So often when I try to help a beginner, he or she will be right in front of the green in three shots and take a 7 or 8. Why? Distance control. If they could just pitch their wedge up the proper distance, even if they are ten feet off line, the worst score they are going to make is 6. Remember that is your goal in order to break 100. So practice your putting so that you can two-putt most of the time from any distance, avoid the big number by not trying miracle shots and work on distance control not only with your putter but also with your pitch and chip shots.
By the way, I'm guilty too. I'm thinking I could chip this in for a birdie. Next thing I know I've run the ball eight feet past the hole and left myself a downhiller for a par.
Hit 'em straight and hit 'em the right distance. If you have an idea for a golf topic you would like me to address, just email me at greg@radiogetsresults.net.
---