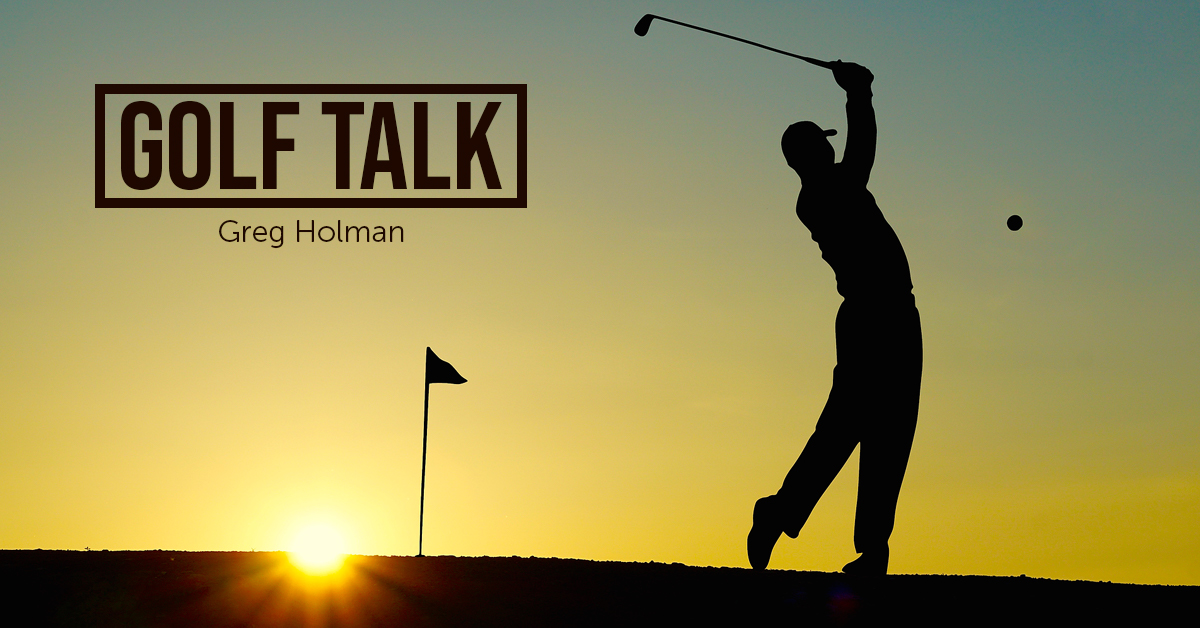 Golf Talk With Greg Holman – #103
Click play to listen to Greg's blog, or, read below.
If you are one of those people that stumbled across this golf blog but don't play golf or tried it once and didn't get it, this blog is for you. We are going to talk about the shots that keep you coming back.
No matter how bad of a round you shoot, chances are there is at least one shot that you are proud of. It might be a 20-foot putt for bogie, or a chip in or the drive that was the longest in your foursome. It's a shot that gives you hope for next time. Before I describe one shot I witnessed this past Sunday, unfortunately It wasn't my shot, let's review the scoring terminology in golf.
Non-golfers often asked me what is par, and that's difficult to explain. I've tried to compare golf to other sports and that's difficult to do as well. Is a par equivalent to a strike in bowling? I'm going to go out on a limb and say for most people, a par would be more difficult to achieve than a strike. For one thing, a par requires taking three, four or five strokes, depending on the distance of the hole. A strike is one (for me) lucky roll. Bowlers would say but you can redeem yourself in golf with a lucky putt or a close chip. Anyway, I'm not going to try to make the comparison.
Par is defined as the score an excellent golfer would make on a hole, certainly not the average golfer. So, if you are a novice, you could actually take the scorecard and make your own par, kind of the way handicaps work. Maybe the first hole is listed as a long par 4 but in reality, a really good score for you would be 5. Just call it a par 5. Technically a 5 on a par 4 hole is a bogie or one over par. A six would be a double bogey, then triple bogey, etc. But there are also terms for scores that are better than par. That's what makes golf the best sport ever. It is impossible to have a perfect score. 18 Hole in Ones? The world all-time record is two in one round. That's a long way from perfect, but it doesn't keep us from trying. So, a birdie is one better than par or a 3 on a par 4 hole. The rare eagle is two under par and that leads me to my story over the weekend.
I was playing golf with a younger friend that I have played many rounds with over the past ten years. We shoot roughly the same score although he hits the ball much farther than I do. We were both having a rough round when we came to our 4th hole of the day, a short par 5 of about 460 yards. He hit a perfect drive down the middle about 240 up the hill which left him 220 yards to the green, well within his range. I jokingly said, "You've got a chance at an eagle!" He pulled the hybrid out of his bag and I said, "I think you should hit a 3-wood. The ball is not rolling much." By the way it's a two stroke penalty to give advice. He took my advice and hit the most beautiful shot that landed right by the stick and stopped dead. We couldn't tell how far the ball was from the hole from the fairway over 200 yards away, but it looked like a tap in for eagle!
It turns out the ball mark was about three feet past the hole and he had a 7-foot downhill putt. If that ball had flown in the cup it would've been termed a double eagle, the rarest of all scores. Many pros go a lifetime with making a double eagle albatross. Well, he missed the putt but had a tap-in birdie. Nevertheless, we talked about that second shot the whole round that shot will bring him back again. So don't give up on golf. One great shot and you'll be hooked. But don't hook.
Hit 'em straight!
---