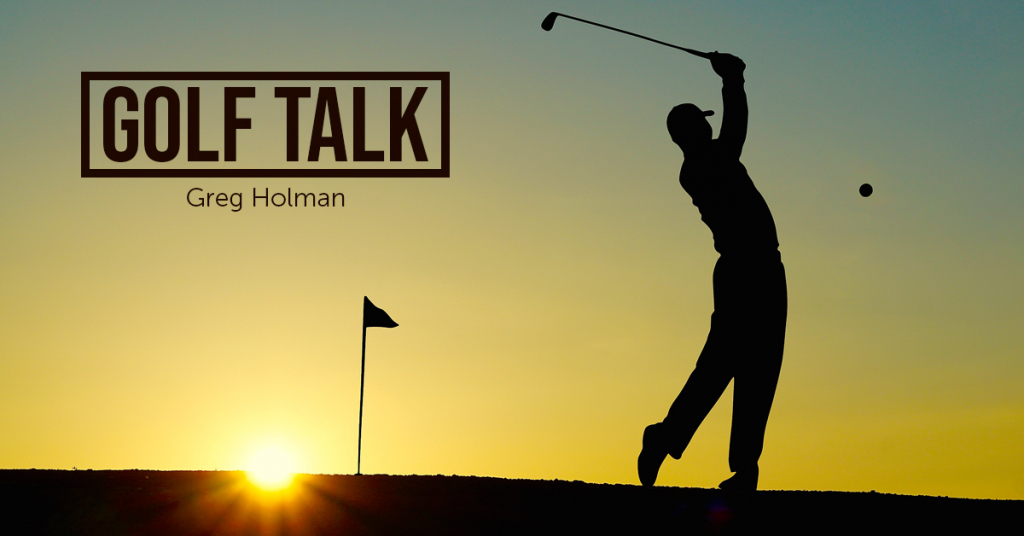 Golf Talk With Greg Holman – #110
Click play to listen to Greg's blog, or, read below.
This Golf Blog is all about New Year's resolutions. We're not talking about losing weight or quitting smoking, we're talking about golf resolutions. I came up with 18.
Resolution #1 is obvious, play or practice more. To get better at anything it takes practice.
#2 Take lessons. That's another way to improve, but expect the instructor to make some modifications in your swing.
#3 Stay out of the trees. How do you do that? Just like I preach every week, hit 'em straight.
#4 Work on your long game. We've talked about that before. To develop more swing speed through flexibility do some stretching each day and practice swinging without hitting a ball.
#5 Work on your short game. You can do that in your back yard with a trash can.
#6 Work on your iron game. Play the game on the driving range where you play the course in your mind. For instance if the first hole is 340 par 4, hit your driver, estimate the yardage and hit the proper club to reach the imaginary 340 yard green.
Play more tournaments is #7, but I caution you to practice putting and go to the range until you can hit the ball solid most of the time to avoid holding up the tournament and embarrassing yourself.
#8 is develop a better attitude. Don't get down on yourself. Everybody hits a bad shot. Pick a different club and practice with the one you hit a bad shot with on the range.
#9 Be less score conscious. There will be a scorecard on the cart, but you don't have to use it, especially in the first rounds of the season. You are just trying to get your feel back. Tell your friends and family about the good shots you hit and don't dwell on the OB or water balls.
Time to make the turn with the back 9 of New Year's resolutions.
#10 Walk and carry. I did this regularly until I turned 50. Another factor is you don't want to hold up the course. But if you are able and the course isn't crowded, walk and play nine. It's great exercise.
#11 is learn to play faster. That doesn't mean rush, it means be ready when it's your turn. One practice swing is enough.
#12 Plan a trip. Something you can look forward to. It doesn't have to be Hawaii. It could be just a weekend at the lake or a day trip.
#13 Play more aggressive. Maybe aggressive isn't the right word. How about less tentatively. Make up your mind, take one practice swing and hit that driver down the narrow fairway. Take enough club to reach the back of the green. Hit your putt firmly so if you miss it finishes a foot past the hole.
#14 Play more conservatively. Most players already play too aggressively. Not every hole may be a driver off the tee. If you can hit a 5-wood straighter and still reach the green in regulation, why not?
#15 Treat yourself to a custom fit set of clubs. You've heard the expression it's not the club's fault? But maybe the clubs really don't fit you. They may be too short if you are a junior golfer that's had a growth spurt. Or they may be too heavy or too stiff if you are a senior golfer. I played with stiff shaft clubs all my life. Last year I went to regular shaft.
#16 Keep those custom fit clubs clean. The pros are meticulous. They have a caddy to clean the club on every shot, but you should at least clean your iron face so the grooves will do what they are designed for, and give you extra bite on your ball.
#17 Play the shorter tees. You may have lost distance or it's your first round out. The course will play longer. Don't penalize or punish yourself, play the forward tees.
#18 Play the ball down and putt everything out. This goes for ideal playing conditions. I'm not talking about in the mud of winter or early spring. Putting everything out though is a good idea year round.
Happy New Year and good luck on keeping your resolution. As always, hit 'em straight!
---