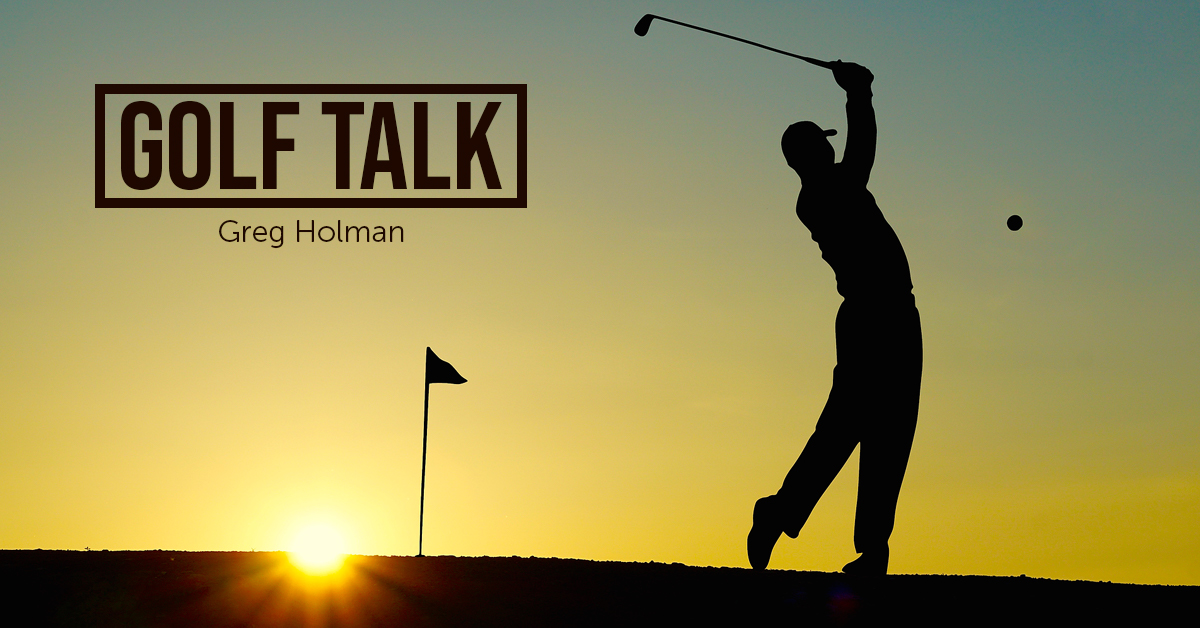 Golf Talk With Greg Holman – #113
Click play to listen to Greg's blog, or, read below.
I read an article in Golf Digest about breaking 80 and I wanted to add my thoughts on that. As we approach the beginning of golf season in early March, set realistic goals and continue to work on conditioning your body so you will have more flexibility when the season starts.
So let's say you consistently shoot in the 80's but can't quite get over that hump to break the egg, as we like to call it. I analyze each round of golf I play and write it in a diary. It helps me find out in what area I need to improve. I asked my dad and he came up with the same answer as Golf Digest: All Areas. After we had a good laugh I asked Pop what part of my game was the strongest, and he said probably driving. That's probably the area you practice the most. After all, it's called a driving range, and that's the part of the game that is the most fun, right?… Seeing how far you can crush it.
Golf Digest says improving a little bit in each area is the secret to scoring 79 instead of 85. We talked about keeping the ball in play last week. Assuming you can do that, practicing your short putting can knock a quick six strokes off your game. What are your chances of making a five-foot putt? You might say I make all those. Even the pros miss their fair share. Twenty-three percent in fact according to golfingfocus.com. Remember also, when you are watching the pros on TV you are seeing the golfers that are performing the best. Generally the leaders are having the best putting week. So hit the putting green. Practice short putts, and not just level putts. Practice the right to left, left to right, uphill and downhill, with and against the grain, until you can make seven out of ten.
In fact a good game is to start at 3 feet until you can make five in a row, then move back to four, one foot at a time until you hit ten feet. If you miss one putt, you have to start over from that distance. There is pressure on that last putt.
Golf Digest identifies six areas of the game. We talked about driving and putting. The other four areas are iron play, pitching, chipping and bunkers. Let's forget about bunkers for now. That's a little more advanced. Just stay out of them.
So the next question is how many greens do you hit in regulation, because if you want to break 80 you probably should be able to hit half of the greens, which should guarantee you nine pars with an outside chance at a birdie. In the event that you miss nine greens you will have to rely on your chipping and pitching.
Since you can't afford a double bogie and still break 80, make sure that your pitches leave you with the best chance to make a putt for par or at worst a two-putt bogie, so leave your pitch below the hole. I'm a little better chipping than pitcher so I play that shot more aggressively. You just have to know your own game. If you decide to charge your chip, don't make it hard on yourself by leaving yourself a downhill 5-footer. Remember you have at least a 23% chance of missing that one.
Hit 'em straight! And let me hear from you when you break 80. greg@radiogetsresults.net
---